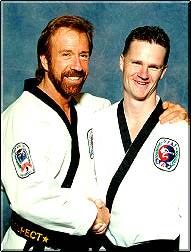 Aaron with Chuck Norris
by Wendy Niemi Kremer
Aaron Lankford's Power Kicks video is a favorite of VF kickboxing fans. Lankford is a 4th degree black belt who has trained with world champions in Tae Kwon Do and taught the Taiwanese Military Police.

In 1991 and 1992 he was a full contact champion and Olympic hopeful in Utah. He is a Black Belt under Chuck Norris and part of Mr. Norris' elite fighting organization, UFAF. He is also part of the Ernie Reyes Action Team -- the number one rated action team in the world.

In 1994 he created Counter-Strike, a self defense program for women, and continues to teach family safety clinics throughout the state.